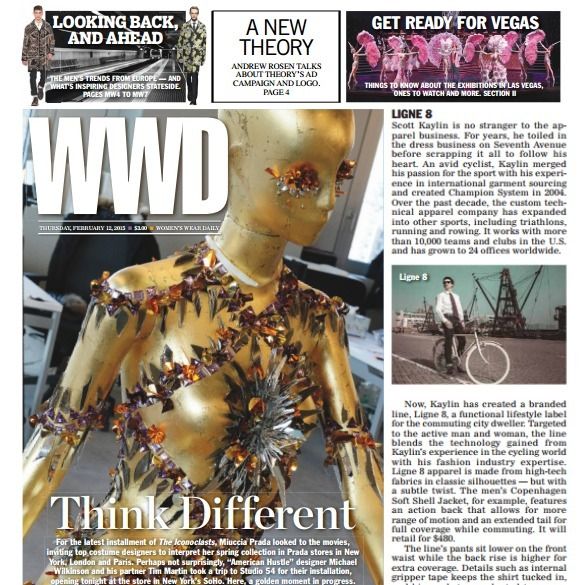 Excerpt from WWD Ones to Watch at the Vegas Shows, Thursday Feb 12, 2015. Womens Wear Daily, p. 17, Las Vegas Preview.
LIGNE 8 Scott Kaylin is no stranger to the apparel business. For years, he toiled in the dress business on Seventh Avenue before scrapping it all to follow his heart. An avid cyclist, Kaylin merged his passion for the sport with his experience in international garment sourcing and created Champion System in 2004. Over the past decade, the custom technical apparel company has expanded into other sports, including triathlons, running and rowing. It works with more than 10,000 teams and clubs in the U.S. and has grown to 24 offices worldwide.

Now, Kaylin has created a branded line, Ligne 8, a functional lifestyle label for the commuting city dweller. Targeted to the active man and woman, the line blends the technology gained from Kaylin's experience in the cycling world with his fashion industry expertise. Ligne 8 apparel is made from high-tech fabrics in classic silhouettes — but with a subtle twist. The men's Copenhagen Soft Shell Jacket, for example, features an action back that allows for more range of motion and an extended tail for full coverage while commuting. It will retail for $480.

The line's pants sit lower on the front waist while the back rise is higher for extra coverage. Details such as internal gripper tape keeps the shirt tucked in, and hip pockets are slanted to ensure contents don't fall out. Refl ective binding and trims help with visibility.

"Ligne 8 was created for the active lifestyle," said garment industry veteran Cecilia Allen, who oversees the collection from Hong Kong as chief executive offi cer. "[It] allows a person to explore life, in tailored style and comfort." She added that each piece offers "high-end finishes and trims [and] classic styling, but with unique features."

Other key pieces include the Ferrara Blazer, which offers a tailored fi t but with slightly longer sleeves to accommodate cyclists. Retailing for $370, it is manufactured from Schoeller stretchcotton fabrics that offer water and stain resistance. The Seville Trouser is a contemporary slim fi t with a hidden gusset and an antichafe lining.
The women's offering includes the Anson Jumpsuit, which retails for $248 and offers an alternative to separates dressing, as well as a classic black pant that is water repellent, offers four-way stretch and abrasion resistance. Ligne 8's fi rst collection, which will be shown at Capsule, will encompass 60 pieces, including a Japanese denim jean with a four-way stretch gusset, reflective tape and a waterproof finish that retails for $128. The brand hopes to sign up no more than two retailers in each major city around the world.

"The details make it functional and fashionable," Kaylin said of the line, adding that he believes Ligne 8 "can create a new category." — J.E.P.